City Mazes OXFORD - Atomic Agency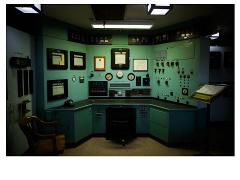 Duration: 60 Minutes (approx.)
Location: Oxford
The year is 1961 and the cold war is on everybody's mind. You've been sent to investigate what seems to be a normal looking office but all is not as it seems. You must find out what's going on in order to escape!

For booking outside of scheduled opening hours please call 01865 920900!
When can I book for?
Subject to availability - we're open every day, with afternoon/evening sessions on Mon-Fri and all day on weekends.
What's the cost?

£25 per person.
How many can attend?

2 - 8 people.
How long is the session?

You'll have 60 minutes to escape.
Are there any age restrictions?
Children under the age of 14 will need to be accompanied by an adult in the game when playing. The adult must be included in the total number booked for the game.
Please note that children between 6 months and under 9 years old are not permitted into the games under any circumstance
.
What should I wear?
City Mazes Oxford is an indoor facility. We advise you wear sensible shoes but there are no specific requirements.
Where is the event held?
Unit 5
Ozone Leisure Park
Grenoble Road
Oxford
OX4 4XP
Public Transport
From Oxford city centre the we can be reached with bus 106 (or 106C). Catch the bus from St Aldate's (stop G1) in the direction of Watlington. Get off at stop Kassam Stadium. The ride takes about 25 minutes. Around mid-day buses only leave every hour, but during rush hour about every half an hour. Before 9:00 am and after 6:00 pm the bus also connects with the Rail station.
Can I cancel or reschedule once booked?
City Mazes is a live event however subject to availability bookings can be rescheduled for an admin fee of £25. Late arrivals of over 15 minutes are treated as a no-show and no refund will be offered under these circumstances. Refunds are not issued for cancellations.